Professor Simon Unwin

BArch PhD Registered Architect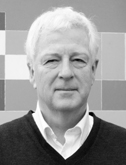 Simon Unwin is a freelance writer and lecturer based in Cardiff, UK. He is a registered architect but concentrates on writing about architecture and teaching architectural analysis and design. His publications include six books: Analysing Architecture (Routledge, London, 1997, 2003, 2009, 2014 and 2021); An Architecture Notebook: Wall (Routledge, 2000); Doorway (Routledge, 2007); Twenty-Five Buildings Every Architect Should Understand (Routledge, 2010 and 2015); Exercises in Architecture (Routledge, 2012); and The Ten Most Influential Buildings in History: Architecture's Archetypes (Routledge, 2016). These books are used in schools of architecture around the world. Analysing Architecture has been translated into Chinese, Japanese, Korean, Persian, Portuguese, Russian, Spanish and Arabic.
In 2019, Simon Unwin instigated a new series of Analysing Architecture Notebooks (see right) which further explore the workings of architecture, offering ideas to those facing the challenges of doing it. So far, there are four volumes: Children as Place-Makers (2019); Metaphor (2019); Curve (2019); and Shadow (2020). Further volumes are in prospect.
Simon Unwin is Emeritus Professor of Architecture at the University of Dundee, Scotland, where he was Professor from 2004 to 2009. Previously he was Senior Lecturer at the Welsh School of Architecture in Cardiff University, Wales, where he continues to teach occasionally. He has lived in Australia as well as the UK and taught or lectured in Israel, the USA, China, Malaysia, India, Sweden, Turkey and at other schools of architecture in the UK and Europe.
Contact: info@simonunwin.com
Add me to the mailing list

Links